A Dolls Dressmaker & Doll Hospital
|
home




The Millinery Shop


~Fasionable Millinery & Fancy Goods~
Hats ~ Falls ~ Wigs ~ Supplies~ & Much More.
Hats
These hats are darling decorated and look wonderful on Cissy, Miss Revlon, Dollikin, and others like them. This is a Basic Woven Poly Straw and has a circumference of 10 1/2". They come in Natural straw look, white, pink, lavender, light blue, and yellow. $5.00 each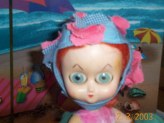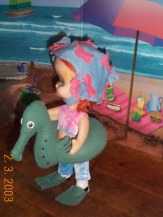 Here Rusty is modeling a swim cap. This cap is designed to look like the swim caps of the 60's and 70's. They are made to fit most dolls ~ Chatty Cathy, Terrilee, and others. $7.00
This site is still under construction, so please be patient. We will be adding hats, hat forms and patterns, supplies, wigs, falls, and hair kits, as well as ready made hats, vintage hats, and hats made to order.