A Dolls Dressmaker & Doll Hospital
|
home

Doll Hospital
|
Children's Hospital
|
Our Spa ~ For A Day of Beauty
|
Dedo Spa and Hospital
|
Bear Hugs - Spa & Hospital
|
Clothing & Accessories
|
Reproduction Clothing
|
Reproduction Tags and Accessories
|
The Millinery Shop
|
Shoes, Boots, & More
|
Cloth Dolls, Bears, & More
|
Antique Dolls
|
Dolls from the 40's, 50's, & 60's
|
Modern Dolls
|
Toys - Repair & Sale
|
Doll Furniture & Accessories
|
Books, Catalogs, & Ads
|
Repair Books, Do it yourself kits, & Supplies
|
Creative Cottage
|
Contact Us/Order Page
|
Doll Hospital/Spa Information
|
Project of the month
|
Favorite Links



Creative Cottage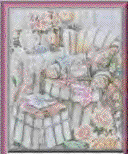 Welcome to Creative Cottage. Here you will find a large variety of items. We offer Antiques and Collectables, Old Ads, Coca Cola items, Home made Soaps and Oils, Fabric, Books, Patterns, Dolls and Stuffed Animals, Vintage Clothing and Accessories, Children's Vintage and Reproduction Items (Clothes, Blankets, etc...), Buttons, Hats, Purses, Toys (Both Antique and modern), Fisher Price, and so much more.
Items will be listed and pictured at the link listed below. If you see something your interested in, please email me, so a hold can be placed on that item.
We are always interested in hearing from you. If you are looking for something and you do not see it here, let us know, and we may be able to find it for you.
We offer Estate/Liquidation Services - for more info. please contact us by phone or email.
We also offer Appraisals. Let us know what your interested in.