A Dolls Dressmaker & Doll Hospital
|
home

Doll Hospital
|
Children's Hospital
|
Our Spa ~ For A Day of Beauty
|
Dedo Spa and Hospital
|
Bear Hugs - Spa & Hospital
|
Clothing & Accessories
|
Reproduction Clothing
|
Reproduction Tags and Accessories
|
The Millinery Shop
|
Shoes, Boots, & More
|
Cloth Dolls, Bears, & More
|
Antique Dolls
|
Dolls from the 40's, 50's, & 60's
|
Modern Dolls
|
Toys - Repair & Sale
|
Doll Furniture & Accessories
|
Books, Catalogs, & Ads
|
Repair Books, Do it yourself kits, & Supplies
|
Creative Cottage
|
Contact Us/Order Page
|
Doll Hospital/Spa Information
|
Project of the month
|
Favorite Links



Bear Hugs - Spa & Hospital

Welcome to
Bear Hugs - Spa & Hospital.
Do you have a much loved teddy bear or stuffed animal from your childhood that needs some TLC?
Are they needing cleaned up, restitched, restuffed, an eye or nose replaced, new or repaired pads?
Has your bear or stuffed animal met the new dog in the house?
Our patients range in age from present day to antique
We take care of each and every one of them like they are one of our own.
We can restore your old and worn teddy bear and stuffed animals, matching fabrics as closely as possibly.
We have worked on many types of stuffed friends including Steiff, American, Gund, & Ideal.
Call or email
* We require return shipping be included with the animal when sent to us.
* We provide estimates prior to any surgery or Spa treatment performed.
* The patient is not admitted until all estimates are approved by you.
* All patients are sent home USPS or UPS
(Please notify us if you prefer a different mailing provider)
Everyone who comes to the Bear Hugs - Spa & Hospital will leave with a Honey Jar that holds a tea bag, and a new ribbon bow for their neck or wrist.
Or Would you like to surprise that "special someone" with their childhood friend all restored and ready for more love and hugs? Then ask about our Gift Certificates.
They can be sent to any address.
Your friend will love you for it.
If you have any questions or would like more information prior to sending your bear or stuffed animal, please email us. We look forward to serving you.
Meet a few of our friends who are here for Spa and Hospital treatment.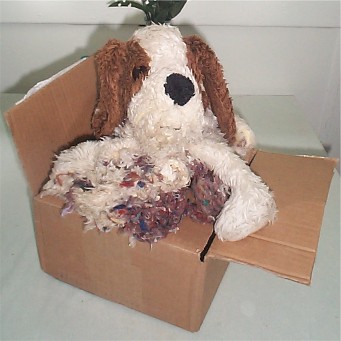 Meet Charlie... He has a lot of problems, but hopefully in time, we'll have him looking his best.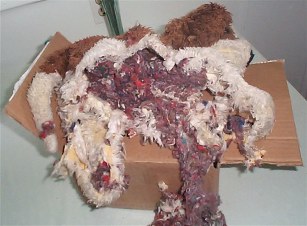 He has lost a lot of stuffing and fur...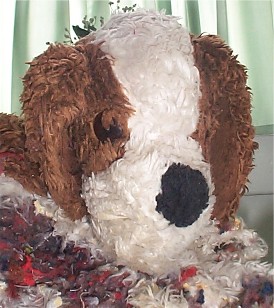 But who can resist this face. What a sweetie!
With his body mostly missing and with the right side of his face, mouth, and ear almost gone, he took some time in surgury. But he is feeling better and ready to get home to his mother.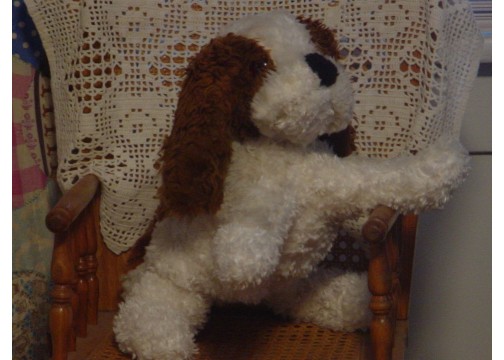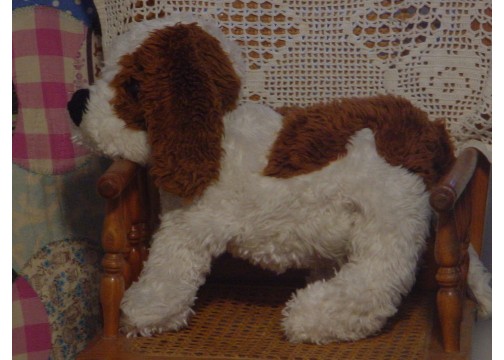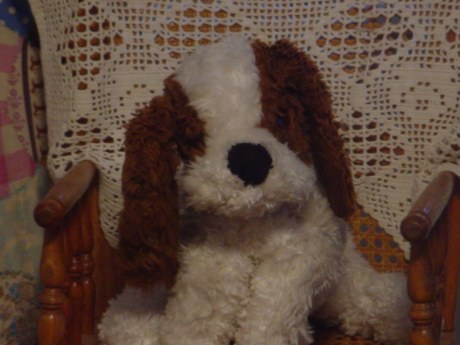 Hi Mom!
See you soon!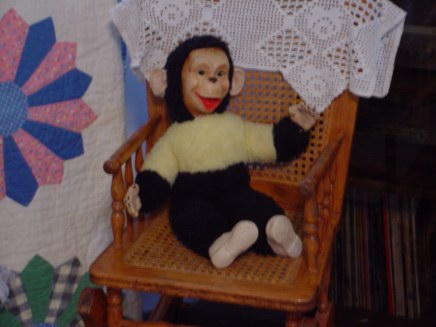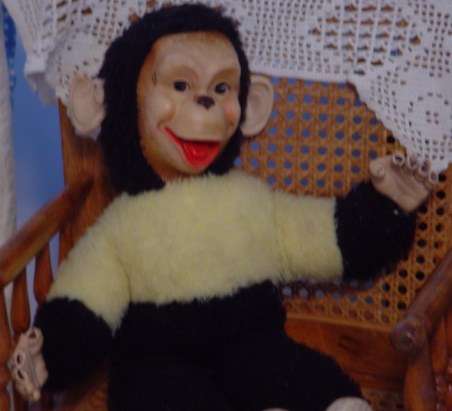 Meet Monkey Shine. He is here for some much needed TLC. With chewed up fingers and hands and a chewed up ear, he can't wait to get fixed up.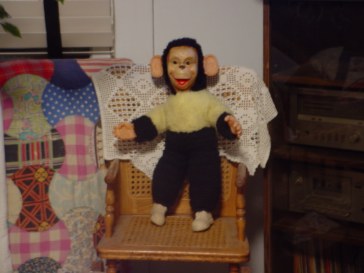 Well, the repairs are done and he's feeling much better. And ready to hop in a box for home.
He'll be home soon.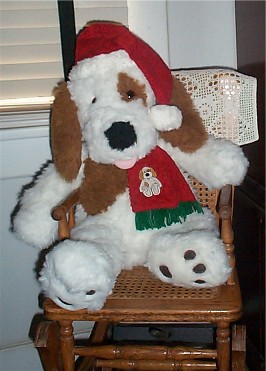 Here is Wroof! He came to the hospital for Spa Treatment and is now heading home. His before pictures didn't turn out, but a farewell picture is added for his family. Have a safe trip Wroof. It was so nice having you here.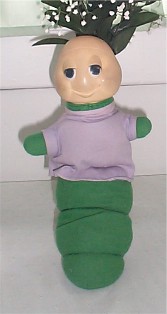 Meet Guzzi (Pronounced Goo-zee)
He is here for a complete make over. Stay tuned for more pictures.
Well, he is finished with the spa and is now heading home to his mom. He is excited about seeing her.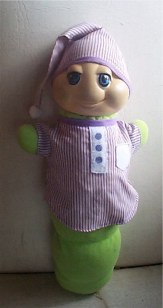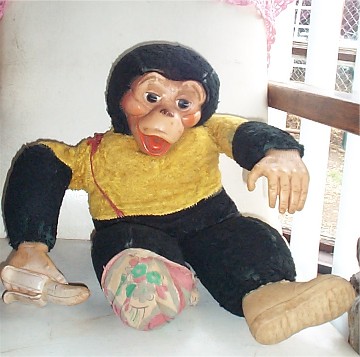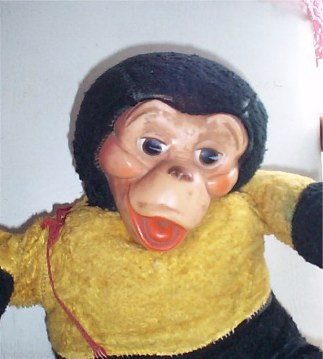 Hi! My name is Dr. Bingman. I have had many adventures in my lifetime and I'm here for Spa and Hospital treatment. I need cleaning, new straps, a new shoe, some wire repair and stuffing. Some mending, and a new set of ears. But in time, I will be back in good condition and ready for more adventures.
Well, it was quite the process but I'm all better and finally enroute home. Boy do I ever feel better.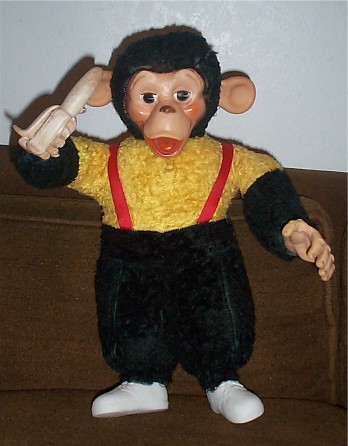 See you soon!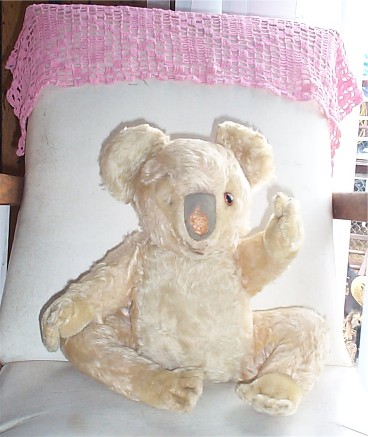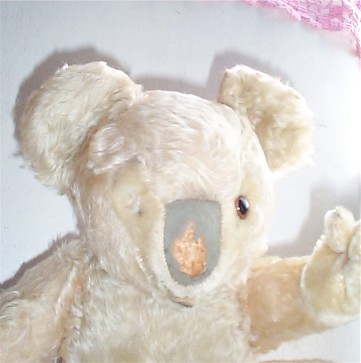 Here is Jimmy Kay. He is a very much loved bear who has come into the hospital for some TLC.
This is the first time he has ever been separated from his owner and friend. He's waving a quick hello and is ready to get started on his repairs so that he can head home real soon.
Hi Dad! He will receive a new nose pad and glass eye's. It will sure be nice to see again.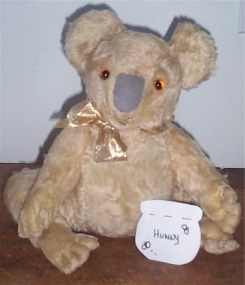 Well, I'm done and ready to go home. See you soon.
Bears For Sale ..... Check out our Bears, Cloth dolls and More page.