A Dolls Dressmaker & Doll Hospital
|
home

Doll Hospital |
Children's Hospital
|
Our Spa ~ For A Day of Beauty
|
Dedo Spa and Hospital
|
Bear Hugs - Spa & Hospital
|
Clothing & Accessories
|
Reproduction Clothing
|
Reproduction Tags and Accessories
|
The Millinery Shop
|
Shoes, Boots, & More
|
Cloth Dolls, Bears, & More
|
Antique Dolls
|
Dolls from the 40's, 50's, & 60's
|
Modern Dolls
|
Toys - Repair & Sale
|
Doll Furniture & Accessories
|
Books, Catalogs, & Ads
|
Repair Books, Do it yourself kits, & Supplies
|
Creative Cottage
|
Contact Us/Order Page
|
Doll Hospital/Spa Information
|
Project of the month
|
Favorite Links



Doll Hospital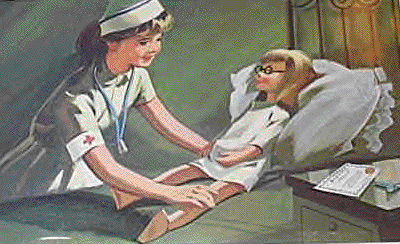 Welcome to our Doll Hospital.
For more information please email us.
Our hospital offers:
Repair and Restoration of Vinyl, Hard Plastic, Rubber, Composition, Paper Mache, Bisque, China, and Cloth dolls (Antique to Modern)
Cleaning and Repair of all types of dolls and stuffed animals
Craze Control
Eye Resetting, Adjustment, or Replacement (Antique to Modern)
Replacement of Bodies (Cloth, Leather, and Leatherette) (Antique to Modern)
Painting of Body and Facial Features
Restringing (All types of dolls, including Action Figures)
Re-sew limbs on dolls
Restring American Girl & other 18" dolls
Cleaning & Restyling Hair
Cleaning and Repair to Wigs
Wig Replacement
Hair Rerooting Services
And much, much more.

Cleaning Kits ~ Now Available $15.00
Kit includes: Cleaning tips and instructions, Cleaning solution, Q-tips, Toothbrush (Which is not Pictured), & soft cloth.
Please note the type of kit wanted. (Composition, Hard Plastic, Vinyl, Bisque, Rubber, etc...)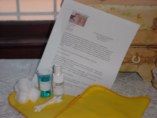 Rubber Doll Conditioner & Cleaning Kit $18.00
This is perfect for Tiny Tears, Amosandra, Sun Rubber Dolls, DyDee Baby, and all other rubber bodied dolls.
Kit includes Oil, Conditioner, Cleaning Tips and Instructions, Q-tips, Cotton Balls, 1 Soft Cloth, Toothbrush (Not Pictured), & Cleaning Spritzer. You will also receive a bottle of oil. This is perfect for keeping her well conditioned year round.
Additional Spritzer & Conditioner & Oil ~ $15.00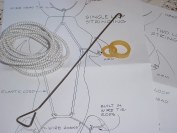 Restringing Kits Available ~ $13.00
Kit includes: Supplies, A Stringing tool, and instructions on how to string dolls.
Kits available for Small, Medium, and Large Dolls.
Let us know what you need.
Basic Kit has instructions for ~
Standard One Loop and Two Loop Method
Please let us know the type of doll that you are interested in restringing. Many dolls are strung differently, so this helps in insuring that you get the right supplies and instructions.
~New~
Stringing kits for Natterers, Gotz, American Girl and other similar type dolls ~ $13.00
Includes Instructions, Elastic, and crimp pieces. Please let us know if you need plastic disks. They are not included in the kit unless requested.
Restringing Services - $25.00 to $55.00
Restringing American Girl & Similar Dolls - $45.00
(Gotz, Magic Attic, 18" Girl/Boy Dolls, etc...)
Stringing elastic - $2.00 yd.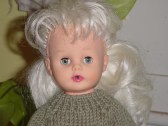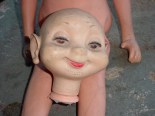 Rerooting Services Available - Please email us for more details and prices.